Butternut Squash "Carbonara"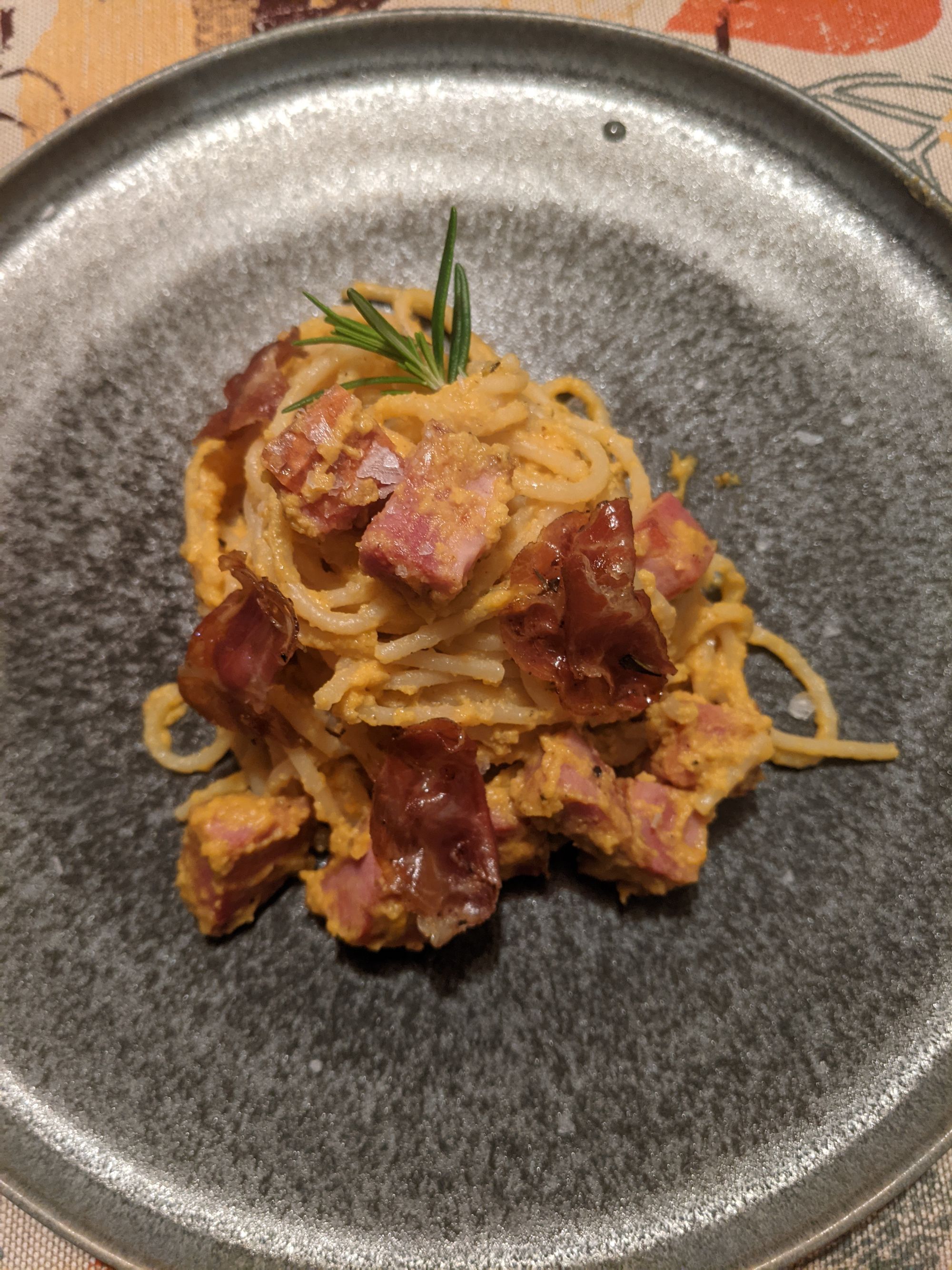 Serves 2 people
This recipe contains 3 steps which can be finished in roughly an hour (20-30 min active time). The first involves roasting the squash for 30-45 min, the second is boiling pasta, and the third is the mixing melange.
| Ingredient | Amount |
| --- | --- |
| Spaghetti | 1/2 pound |
| Butternut squash (diced) | 2 cups (~1/3 small-medium squash) |
| Eggs | 2 |
| Prosuitto | 4-5 slices |
| Cured Pork* | 6oz |
| Garlic | 3 large cloves |
| Rosemary | 3+ sprigs |
| Sage | 1/4 tbsp |
*Note: Pancetta, thick cut bacon, or similar will do great with this recipe
Roasted Butternut Squash
Preheat oven to 400 F.
Peel and cut butternut squash. Peel garlic.
Toss squash and garlic in olive oil, season with salt, pepper and rosemary.
Space evenly on a 1/8 sheet tray, place prosciutto into nooks.
Bake for 20 min.
Check after 20 min – if prosciutto is crispy, remove prosciutto from pan and set aside. Roast squash and garlic for another 10-15 min until fork tender. Start boiling water for spaghetti.
Set aside until lightly cooled.
Spaghetti
Bring a medium pot of water to a boil.
Salt, and cook pasta as instructed on box.
Reserve 1.5 cups of salty/starchy water.
Drain pasta, and stop cooking under cold water.
Melange
Blend squash, garlic, eggs and starchy pasta water until fully emulsified.
Heat medium pan with a few tablespoons of olive oil.
Medium dice pancetta, and cook until crisp.
Introduce pasta into the pan, coat with oil and mix in puree.
Stir frequently, as the emulsion cooks it will thicken.
Plate and sprinkle with a dash of flaky sea salt.